In February, the Team Academy was present at the KMØ to challenge UHA students. This program, which comes from Finland, advocates " Learning by doing "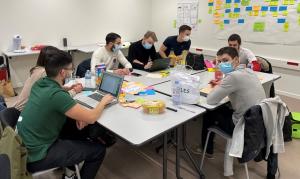 The students learn by doing by answering a problem given by a company, and this, in 5 days : it is what they call the " sprint ". They will learn through the difficulties they will encounter and will have to work as a team throughout the week. They will learn the skills on their own.
At the end of the week, they present their prototype to 5 test customers who give them feedback.
The Team Academy project at KMØ :
The Team Academy plans to move to KMØ in September 2021. They will be, via ManaMana, a company with a diploma : the young people will enter the company, will be shareholders of the cooperative and will be able to create their own activity. There will be 1 or 2 sessions of " dialogue " during the week so that the young people can be accompanied and they can take a look at their work. After a minimum of one year, they will validate the diploma in their specialty by VAE. The dialogue sessions will validate a certification.
" We see ourselves as a bridge between KMØ businesses and students. We will need companies to challenge students. "
According to Marcellin Grandjean, the advantage of KMØ is its ecosystem with the companies that are present there. He would like to link the students and the companies of KMØ because for him, young people can bring a lot to them.
Feedback from students : they love !
According to Rayan, UHA student the projects are interesting, the way of doing things is original, even excellent : it is a reversed pedagogy where we are given the problem before the knowledge. It's up to us to look for information that will be useful, it's very motivating ". The students are unanimous : thanks to this system, they all feel involved, the atmosphere is excellent and it gives them all the desire to work !