This Monday, October 5th, Team Academy challenged UHA students. This learning program, which originated in Finland 30 years ago, advocates teaching by direct action with the client.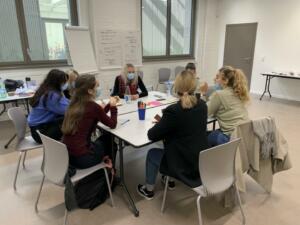 The aim is to become aware of these actions in order to identify the missing skills for future actions and to attach the theory to them. By becoming their own teacher, students structure their action plan to become the expert.
Following scientific research, this method has been proven to be 90-95 % effective compared to the top-down courses, which are 10 % effective.
This week's challenge : a client brings her problem around reduced mobility. The project is to appeal to the creative spirit of youth to create the first prototype of an electrically powered kit for wheelchairs.
Throughout the week, the students will follow creative workshops in order to test their prototype at the end of the week with 5 customers bringing their feedback.
Feedback from students : they liked !
This situation is highly appreciated by UHA students interested in the field of reduced mobility. One of the students confided that " the concrete image of the realization of a project brings out not only the managerial side but also the human side of a good team cohesion ".
They all say they are delighted and motivated to be able to evolve within the KMØ, " strategic place where all the tools are at hand ".