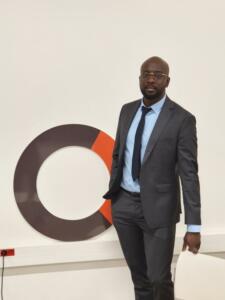 Amadou THIAM (opposite), Activity Manager at FORTIL, tells us about FORTIL's arrival at KMØ, at the beginning of this year. This engineering consulting company was founded in 2009 by Olivier REMINI and aims to provide technological support to its customers in the fields of Health, Industry and IT. FORTIL's objective is to act on the competitiveness of its customers, by reducing their Time To Market or improving their Products and Processes.
Each agency is responsible for its own regional scope of activity, whether in France or internationally, in order to respond locally to the needs of each client. Today, the FORTIL incubator operates solely on its own funds and has the objective of seeing 30 % of its employees become shareholders of the group. This method allows them to feel valued and benefit from the company's investment.
KMØ, an environment conducive to innovation
According to Amadou THIAM, KMØ represents " the place to be " for the development of FORTIL activities. By providing new opportunities, KMØ offers FORTIL a dynamic environment, at the heart of innovation, surrounded by companies that are conducive to partnership. Moreover, FORTIL gives the opportunity to the KMØ inhabitants to benefit from their services and thus to bring solutions to their projects. The philosophy of the win/win concept at KMØ is dear to Amadou THIAM's heart and fits perfectly with FORTIL's values.
FORTIL, an ambitious company for the future
FORTIL's greatest strength is to have no limits in innovation, a field in which they invest in order to grow, to build customer loyalty but also in order to have an expertise recognized by all internationally. FORTIL is actively recruiting in all engineering fields and has no less than 300 active offers on its website. Present on an international scale, the group has nearly 500 employees and 18 agencies with a common objective, to grow and make grow. We believe in everyone's potential and with personalized support, everyone is an actor in their personal and professional development.
For more information about FORTIL, you can visit their website by clicking here.