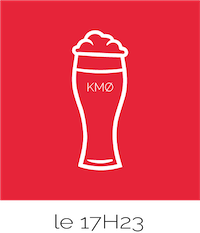 Come and discover KMØ and meet its inhabitants during a new highlight : 17h23.
The principle : every second Thursday of the month, board the KMØ, meet our inhabitants, taste the specialties of the PantØgraphe and network in a friendly atmosphere. Whether you are a company manager, entrepreneur, student or curious to discover us : you are welcome !
Start on October 8 at 5:23 pm sharp.
The PantØgraphe proposes a special formula including a beer or a soft drink and half a tarte flambée for 6€ per person.
EDIT 10/21/2020 : The 5:23pm Entrepreneur's Happy Hour held at Le Pantographe restaurant is cancelled tomorrow night and until further notice 😐
Please confirm your presence by filling out this Google Form