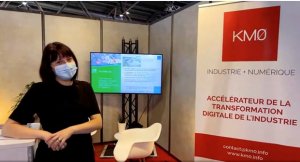 KMØ was present at the BE 4.0 Industries du Futur exhibition in Mulhouse on Tuesday 30th November and Wednesday 1st December. Were you there ?
This internationally renowned trade show was an opportunity for us to represent our ecosystem physically during these two days dedicated to business, exchanges and innovation. More than 270exhibitors were present, including some of our residents : Ecole 42, Sauter, PROALPHA, ITDM Group, Cetim, Village by CA as well as Clemessy EES.
We were able to attend several trinational plenary sessions, exhibitors' conferences and thematic tours, we were greeted by many curious or knowledgeable visitors, and above all, we had a lot of fun in the exchanges and meetings we made.
We would like to thank the entire organization of the show as well as the visitors who attended the event. And see you next year !