The 5 entrepreneurs of the AKC space have moved to KMØ for the same reasons : to network, to surround themselves, to exchange, and to be at the heart of synergies between industry and digital providers. They come to work in the shared office on a regular basis, depending on their needs. Focus on these 5 young companies from Mulhouse !
Hello, a quick presentation ?
Julian Barrière : I have been a freelancer for 1 year. I propose to my clients to manage their advertising campaigns on social networks.
Jérôme Aubert : I have a background in the pharmaceutical industry, with many roles in innovation, and I founded Freedom 2 eXplore (F2x) this year !
Pierre Fritsch : I have a background as a web designer, and I discovered UX (for User eXperience or customer experience) 6 years ago, in my job in Switzerland. I wanted to import the practice to France and founded Impact Positif with two partners a year and a half ago.
Benoit Maigret : Front-end developer, I've been working for 7-8 years in the web industry, after two years in an agency I became independent following my move to the south of Alsace. I've had my own business for 5-6 years and I develop web projects, websites and applications.
Bernard Deffarges : I am a computer scientist, like Jerome I worked in the pharmaceutical industry (bioinformatics development manager), and I launched my own company, LLAAMA, in July 2019 to continue a project I had started in one of my former jobs.
Most of you are new entrepreneurs !
Jérôme A. : Yes, I am discovering that it is a positive stress to be an entrepreneur !
Pierre F. : I agree. We are responsible for what happens to us, it is more motivating.
Benoit M. : Yes, I would have a hard time going back to a full-time position ! That said, since this summer, I've been working part-time from home. It's comfortable to have something fixed but keep my self-business.
Bernard D. : It's stimulating to be an entrepreneur, indeed. But the network is very important. Besides I see that we are all surrounded. I personally have a partner. And I might be incubated at SEMIA.
Julian B. I am independent but I use a motion designer from time to time.
Jérôme A. I work a lot in partnership because I enjoy working with others.
Benoit M. : I also have a network of partners, and in particular a freelance webdesigner in Mulhouse.
Pierre F. : On our side, we have just recruited a 5th person, but we also have a small network of partners for specific needs. For your information, we are a cooperative society with collective interest.
Jérôme A. : I am in EURL.
Bernard D. : And me in SAS !
What is your project ?
Julian B. : I manage my clients' advertising campaigns on social networks such as Facebook, Instagram, Linkedin : strategy development, campaign planning, and reporting to accurately analyze the results generated.
Jérôme A. : Freedom 2 eXplore is an innovation consulting and coaching agency. There is work to be done on new management methods and in particular on the " How to innovate ". Everyone can become a co-actor of innovation. The challenge for companies is to remain competitive. We bring them new working methods based on design thinking and open innovation to anticipate and innovate more effectively, as close as possible to their customers, users and employees.
Pierre F. : We are specialized in UX design. Our goal is to make the customer journey as pleasant and memorable as possible. That he knows where to go, understands what he has to do. This happens in stages : research to understand the user needs (interviews, user tests…), the development of the scenario, the prototyping of the solution and finally its concrete implementation. We can intervene on digital media of course, but not only : internal process, events, signage …
Benoit M. : I am a front-end, web and mobile developer. I work mainly with React (JavaScript), a technology that is quite popular at the moment and that allows to create web and mobile applications. I do custom development for large projects.
Bernard D. : I have developed a platform that automates and optimizes data analysis for the pharmaceutical industry. This platform allows scientists to verify the integrity of the results, ensure that they are tamper-proof, and trace the entire data analysis process in a quasi-automated manner. It allows to check the processes from the first laboratory test to the results. This is an expense item that generates billions of dollars in losses : hence the importance of optimizing this analysis phase.
Jérôme A. : This is a specialized field of expertise ! But there is a market.
Bernard D. : Yes ! I am one of the precursors but the competition is coming.
Why did you choose KMØ ?
Pierre F. : Before, we were in Tuba. It was great, but we are looking for more synergy with others. And eventually, we would like to have our own premises : we would take one of the boxes under the sheds (KMØ, building 24). We want to develop a research lab to do extensive user testing.
Jérôme A. I chose KMØ to exchange and meet people. I already have 2 clients from KMØ !
Bernard D. : Yes, we need to make contacts. Later on, we may have to grow and have our own premises. But at the start, it's a very good opportunity to be in a shared office.
Julian B. : Same objective. I arrived in Alsace recently.
Benoit M. : I was looking for a space like " coworking " to not be alone anymore, and also to better separate business from personal life. I come to KMØ on foot or by bike (and soon by train), and I meet other structures around digital. So there is the investment, the fact of being on the field and meeting people, but also the pleasant aspect of KMØ.
Bernard D. : It's true that it's a very nice environment. I like the mix between the industrial side of this historical building, with the beams, the old bricks ; and the presence of innovative startups. We could have been on a hyper modern building, but we are in the heritage of the past and it is very beautiful.
Pierre F. : For me, there is also the moving side of working in the same premises as my grandfather who was a worker at SACM.
What is your big challenge at the moment ?
Bernard D. : To obtain the contracts under discussion with large groups ! And find investors.
Benoit M. : Managing my new organization and my schedule, between my new job and my clients. I am currently rethinking my communication (logo, strategy). And I have a project to create a startup with 3 other people.
Jérôme A. : On my side, I have done little prospecting but I already have clients. However, it is necessary to succeed in developing the company anyway ! Find the balance between the work for the customers, and all the work related to the commercial.
Pierre F. We are in the next phase. We actually had quite a few customers at the beginning, then a " hole " at the commercial level, so we have to succeed in perpetuating the company. We also need to successfully prove the value of our work on customer experience.
Jérôme A. : This is my definition of innovation : creating value for people. We must focus on the real needs of the people. Sometimes they don't need more technology, but more simplicity and functionality.
Pierre F. : Absolutely, it's about understanding what's needed. I would like to take this opportunity to mention that we are organizing the Positive Design Days in Strasbourg on November 12th. This will be a one-day conference on the theme " Customer Experience is R.O.I. ".
Julian B. : As far as my big challenge for this year is concerned, it would be to refine my strategy, to find out what sector I should specialize in, where exactly I should go.
Thanks to everyone for these few words of introduction, and good luck to KMØ !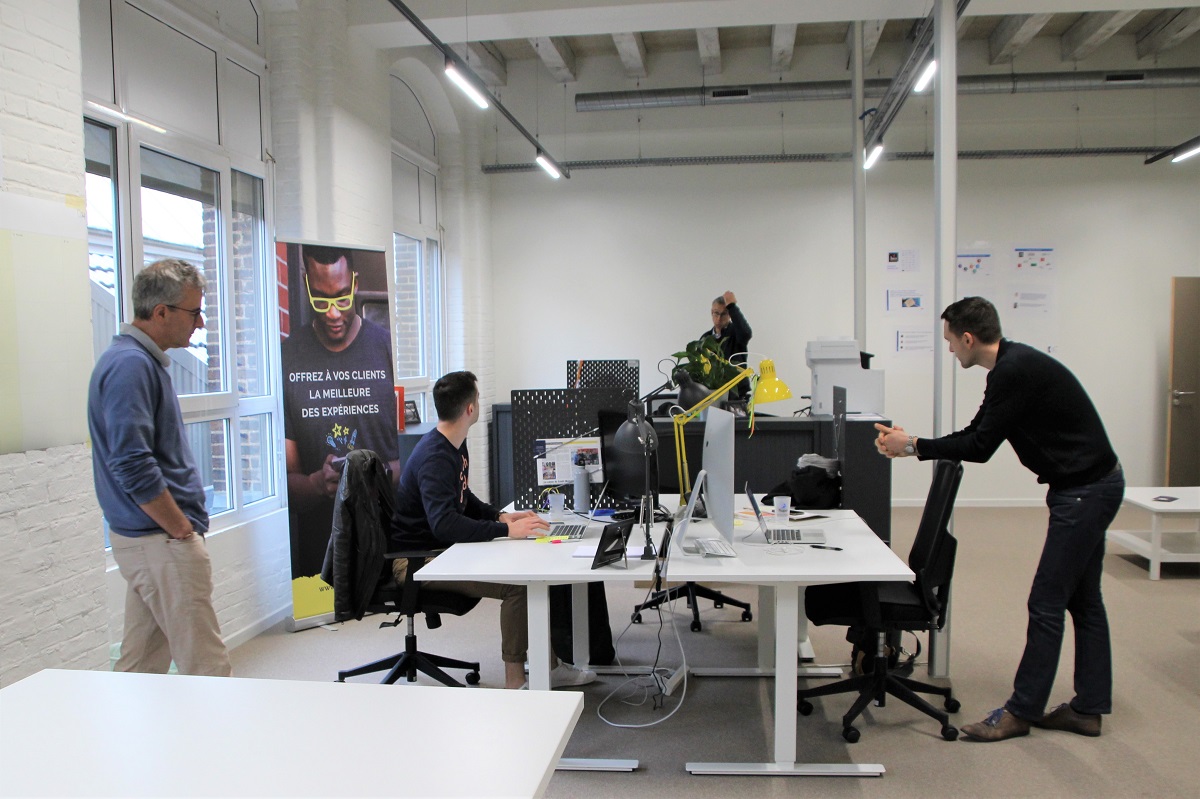 Learn more about the contractors in the AKC space :