Last week, Epitech, a computer science school at KMØ, held the first afterwork of the year. After long months without events, the goal was to give back a dynamic of sharing between the inhabitants and the students of KMØ. This afterwork allows Epitech students to exchange with KMØ companies in order to get to know each other. And all this around a buffet prepared by the Pantograph !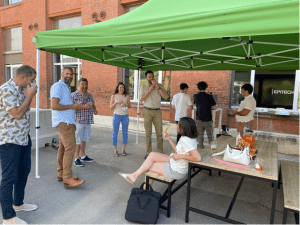 Interview with Thomas Comparon, student at Epitech
Thomas Comparon, a first-year student in the Grande Ecole program at Epitech, attended the afterwork. For him, this is the kind of event you don't want to miss as a student. This allows them " to learn more about each resident's business, and thus more easily find internship opportunities . According to Thomas, the fact that Epitech is at the heart of an ecosystem like KMØ is " a great asset " for students.
What do our Residents think ?
Several KMØ residents, such as Actricity or Première Place, were present at this afterwork. Caroline POROT, future director of Ecole 42 which will open its doors at the end of the year at KMØ, gave her opinion on this type of event. According to Caroline, " friendly meetings are part of the DNA of the ecosystem, and allow different audiences to meet . It also facilitates exchanges between residents and can generate future collaborations.
With the return of the beautiful days, many events will take place at KMØ. Starting with the Epitech Summer Camp, a day of introduction to programming and development for high school students on July 9. Find all the information on our event page