You are located in Freiburg im Breisgau and are looking for an atypical place to celebrate a key date in the life of your company, to follow a training course or " brainstorm " with your collaborators ?
Where can you organize your event to bring together employees from Germany, France and Switzerland, or even from further afield ?
Our 5 event spaces welcome you for any kind of event at KMØ, the digital ecosystem of Mulhouse.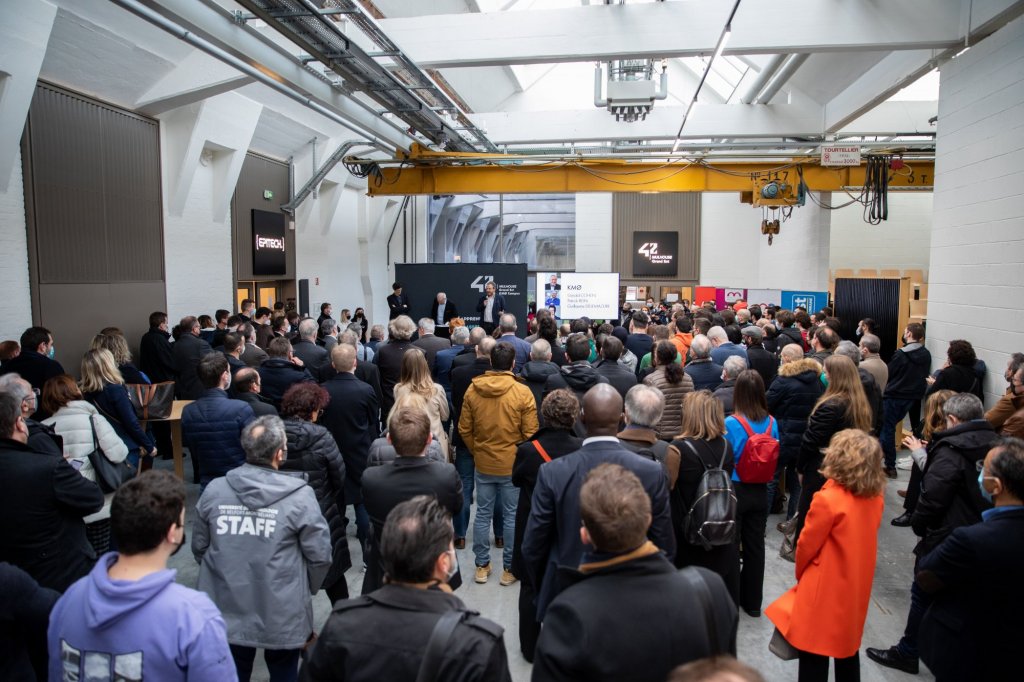 Renting exceptional rooms from Freiburg (Germany)
Whatever your event (seminar, training, meeting, workshop, team building, conference, etc.), KMØ adapts to your desires and needs. Equipment, catering, decoration : we will accompany you for an organization at the height of your event.
Different spaces are available for rent together or separately, on the first floor of KMØ and right next to the restaurant :
The hall for up to 400 people
The auditorium for up to 74 people
Conference rooms for up to 50 people
The inter-colloques space for up to 80 people
Invite your employees from Fribourg and elsewhere in an original space !
A few words about KMØ
KMØ is an ecosystem dedicated to the digital transformation of industries : manufacturers, startups and students are all in the same space. This unique concept began in 2019 and over 800 residents visit daily.
This innovative place is located in a former factory in Mulhouse. It charms all its visitors by the " soul " that it has preserved, while being modern and equipped with all the technologies necessary for the organization of your event.
Your room at 1 hour from Freiburg im Breisgau
Come to KMØ by train or car : the advantage of the train is that you can reach your event in only 15 minutes walking along the canal. The EuroAirport Basel-Mulhouse is only 30 minutes away (car or train).
Mulhouse is a smaller city than Freiburg (slightly more than 100,000 inhabitants), which has some very nice propositions in terms of business tourism. Its history and its dynamism will undoubtedly seduce the inhabitants of Fribourg… and the others !
You want to change your decor ?